Pearls of Wisdom Book Review…
When something lands with a thud through my mail slot, as smile lights up my heart: a book arrived! After several weeks of anticipation, I was greeted by a fabulous thud last week.
I feel truly honoured to be asked to review a recently release gem of a book titled, Pearls of Wisdom: 30 Inspirational Ideas to Live Your Best Live Now! And now to share it with you….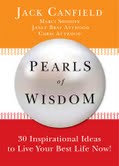 A heads-up – I love self-discovery book! So, you won't be surprised that I devoured this fabulous anthology of nuggets. Headlining the book cover are the likes of Jack Canfield, one of the leaders in the self-help field as co-creator of the Chicken Soup for the Soul book series. Very much in a similar format and feel as the Chicken Soup books, Pearls of Wisdom is a collection of diverse viewpoints, life experiences, techniques/tools, etc. focused on transformational messages to help you create a more fulfilling life for yourself.
To round out the headliners are Marci Shimoff, Janet Bray Attwood, and Chris Attwood, all previous best-selling authors in their own right. What I love within the cover of Pearls of Wisdom is that my favourite pieces are from some of the rising stars of the self-help movement. Partnering veterans in the field with 'inspirers' at different stages of 'newbie' status creates a beautiful mentoring feel. It's as if a door is opening to welcome fresh perspectives into an expanding self-help genre. My strong suggestion is to embrace the more unfamiliar names into your heart.
The joy of a compilation book is considering how to approach it. Unlike a novel or typical self-help book that guide you from cover to cover – or in the case of Pearls of Wisdom from shell to shell – with an anthology you often have other options. So I rocked the options! My choice: to do a 'random' (if you believe such a thing exists!) reading of whatever chapter the book opened to at a given time. What a treat! Each day I made time to silently savour a few minutes to myself. Often with a cup of tea at my side, I'd sit, breathe, focus, ask for guidance, and then open Pearls of Wisdom to a page…any page. Wherever my fingers took me, I started.
With each bite-sized chapter by a different writer, the topic, style, and tone seemed to reflect exactly what I needed in each moment. It was truly inspired reading! Every story connected with me in some unique way. Just like it's name, I love how Pearls of Wisdom offers so many gems of inspiration…and in some very practical ways. This is a book that I closed after each reading feeling I was empowered with more information in the form of tips, tools and insights. I imagine having this book as a resource on my shelf for moments when I need a kick-in- the-butt to focus on a positive life change, and/or to remind myself of my passions.
The title, Pearls of Wisdom, is inspired by the quote, "An oyster can't produce a pearl without first suffering from a grain of sand." Mirroring life, the title and the book speak to the reality of life challenges offering the greatest opportunity for inner growth. When better to read an inspired chapter than when we're faced with something we perceive to be bad, only to watch as it transforms into a blessing. Between the covers of Pearls of Wisdom, you may very well find a moment of transformation that shifts your world forever – a pearl. I did.
If you wish more inspiration to buy Pearls of Wisdom, please read my previous blog interviews with Chantal Herman and Susan Loraine Barker, and then grab your copy of Pearls of Wisdom: 30 Inspirational Ideas to Live Your Best Life Now! Get it while it's flying off the shelves!
Check out Pearls of Wisdom for yourself…Click HERE