I Can Do It Insights…
I love jaw-dropping moments…both my own and more often those of others. Spending a fabulous weekend with dear friends, along with 3000 other jaw-droppers, was a serious treat at the Hay House sponsored I Can Do It conference in early May. Vancouver hosted such a rocking great self-love weekend that Hay House is doing it all again next year!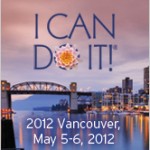 To inspire you to consider joining us in the inner growth fest next year (or at other venues internationally), I thought I'd share some of the key moments that shifted my 'stuff,' sparked my heart, and opened me up to meeting new aspects of myself. While I am not comfortable sharing other people's insights, please know there were many within my social circle…too many to count!
Where to start? How about the opening words…
'Don't fence me in…' were the lyrics hummed by Wayne Dyer, as he introduced the idea of 'can't' and 'shouldn't' – two of the most harmful words in the world, in my opinion. Taking it to another level, Wayne (as I call him 'cause we're best buds!) shifted us into considering the labels that fence each of us in. He asked: 'What labels do you live?' This sparked a landslide of queries for me: Which labels are given to me by others? Which are self-selected? Which ones do I want to release? Which ones do I happily embrace? How do I 'let' labels define me? Meaning: How do I choose to be defined?
Greg Braden, the Indian Jones of Self-Growth (as Robert Holden joked), caught my heart when he talked about THE longest journey. It's not to a place…it's within. It's the 10 inch route from your head to your heart. How often do you take that journey to connect your thoughts and emotions? How often to do you witness that route blocked by fears, anger, guilt, etc.? How do you clear the path again and again and again?
Marianne Williamson is one of my all-time faves. Highlights that took my breath away as she appeared to channel her talk began with: 'Your happiest days have sad moments.' So true. Then when she got on a roll about feeling defensive, she simply took a step back and to the side, creating a vision of allowing the 'attack to flow past.' To not engage and to not defend came to these words: 'In my defencelessness my safety lays.' Pure beauty! Where in your life can you step to the side, letting your guard relax?
In the evening, Doreen Virtue shared a loving audience. In speaking about lifestyle and quality of life, she asked us: 'How much do you live in your head? How much do you live in your heart?' If you were to guess-timate a percentage, where do you live most often? How's that working for you? What percentage would you like to shift it to ideally?
The chit chat between Louise Hay and Cheryl Richardson was a great launch for Day 2. A key image I'm now utilizing is to dissolve a habit, rather than break it. To dissolve feels so much more ease-filled to me than to crack and tear to break free. In sharing tips for self-care, I loved their connection between your quality of life and your quality of thinking. To take it further, I upped it to the quality of your self-care reflects your quality of self-love. Where is your deserve-ability of self-loving-care today?
Bruce Lipton, the Master of Biology Thinking, presented the best biology class of my life! Science does not need to be intimidating or out-dated. But be warned: Buckle your seat-belt for a blitz rocket-ride of insightful info. My hand cramped with note taking, until I relaxed into receiving Bruce's wisdom, releasing my brain and listening with my heart.
Truth be told, I missed Caroline Myss' presentation, as I 'peopled' the Heal Your Life information booth. However, if it's anything like the many other times I've seen Caroline talk, it was likely filled with sage wisdom and some sharp barbs of well-delivered honesty.
Last, but possibly my fave, the conference wrapped up with Robert Holden holding space for tears of laughter. His six principles of Shift Happens were marked with a key aspect many of us often overlook: Your daily practice is the opportunity to 'meet yourself.' Love the reminder to make this re-introduction with the new me each day with gratitude and a hearty smile. So what can a daily practice include? I loved his description of a God meditation, probing: How much does God love me? And how much do I let God love me? If God is love, God's love is 100%. How much I let God love me is the difference between where I jump ship. What's the percentage difference for you? And if that's a biggie, consider Robert's affirmation suggestion: 'Dear God, show me the truth about myself, no matter how beautiful it is.' Tears of laughter turned to tears of self-love.
May my favourite nuggets of I Can Do It wisdom and love inspire you to take the next step in your self-discovery journey. Be the inspiration in your own life…and you will inspire others!