Count Your Blessings in Tough Times…
How do you count your blessings when overwhelm hits? For many people, hard times land with a thud, making it challenging to see the light of day, let alone feel blessed to be in a mess. When times are tough, it can be extremely hard to find something – anything - that feels like a blessing. To me, the most inspiring people are ones who can find the needle of gratitude in the hay stack from hell!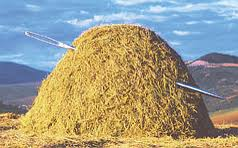 Recently, several peeps close to me have gone through some wicked hard times. Relationships breakdowns, unexpected career shifts, and health issues seem to be an overwhelming theme for many. Add to this the endless TV news of huge disasters impacting millions of people we don't know personally.
Dare to tell anyone of these peeps to 'count your blessing', and the evil eye may target you! So often 'count your blessings' can be easily, off-handedly, and even flippantly said that it lacks the sincere message of support and concern you may deeply share. Sometimes it obvious when we're stuck in a tough situation, and other times we silently keep our hard place to ourselves. We may stand stoically or melt with a whisper. At all times, we are doing the best we can with where we are and what we know. But can we always be grateful?
One of the greatest tools at our disposal when we find ourselves in hard times – expectedly or unexpectedly – is gratitude. Only where do you find blessings under a hay stack from hell? Sure, for some it may be easy to 'see the bright side of life'…humming a tune of gratitude no matter the situation. Maybe you've grown your gratitude muscle from a regular gratitude practice. For others, gratitude may be visited rarely, if ever. Wherever you're at, you'll respond as you choose to in the midst of a tough situation.
Only the coach in me hopes to inspire some Boy Scout preparedness!
Here's my tip: Make your list a head of time. In fact, the next time you find yourself humming along in life, take a few minutes to write down what you are grateful for. Don't just think the grateful thoughts…write them: use a journal, type up a document, creatively design a beautiful note, or add an affirmation to your smartphone.
Because here's the catch: It can be super overwhelming as you're drowning in a blinding flow of dread to try to find that needle of sunlight in your life. Opening a journal, clicking on a computer file, scanning your bulletin board, or surfing your smartphone for a list of things you were once grateful for may be the nudge you need to count your blessings once again. Do the work ahead of time, so that when the heaviness hits you have your gratitude ready to respond. All it takes is a few key messages of gratitude to kick start you to count your blessings, even when you're still living under the hay stack from hell.
Smile with joy when the blessings you pre-prepared shift, lift, or lighten your dark hours. Welcome gratitude for your preparedness – it's a blessing itself!
Time to get your gratitude on – Count your blessings!
I am grateful for…
My life is blessed by…
Light shines on me because…