The Gratitude Book Project: Celebrating 365 Days of Gratitude 2013 Edition
Gratitude rocks my core! So I was deeply honoured to be invited to participate in this anthology celebrating a year of thankfulness.
People from all walks of life join together in this collection of essays – one for every day of the year – about the things, people, circumstances, and events they're grateful for. Need a pick-me up? How about a gratitude adjustment? Look inside – you'll be grateful you did.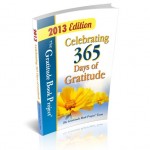 Celebrating 365 Days of Gratitude is brimming over with appreciation and inside you'll find evidence that harnessing the power of gratitude can be a life-changing force. These true life stories are about more than the polite "thank you" we casually exchange every day. They're testimonials to the people and things we often take for granted.
Join in this growing movement of people from around the world who have committed to asking themselves this simple yet profound question every day: What am I grateful for?
Also, know the co-author have big hearts. All net proceeds from the sale of this book go to support Feeding America, the American Society for the Prevention of Cruelty to Animals (ASPCA), and Women for Women International. 'Cause helping others rocks!
To check it out or buy via Amazon.com, CLICK HERE
http://www.amazon.com/The-Gratitude-Book-Project-Celebrating/dp/097400197X/ref=sr_1_2?ie=UTF8&qid=1371751278&sr=8-2&keywords=Gratitude+Project