"Smart Women Live Their Why: How Women Entrepreneurs Are Living On Purpose and In Passion"
'WHY' belongs to today's women entrepreneurs who are no longer settling. Yes, they want to be successful. But only if their businesses are created out of their passions and brought forth to the world using their unique talents.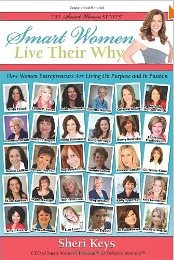 In this dazzling collaborative anthology, rockin' successful biz gals share over 450 pages (with 57 chapters) of how-to information, inspiration and empowerment for your life and career. Yes, that's six and seven figure women from all over the world bringing you insights to living you big 'why'!
57 successful entrepreneurs share their insights to spark you into action!
Women will be moved, inspired, and learn powerful life and business lessons that will change the way they think about themselves and their entrepreneurial pursuits. These inspiring entrepreneurs are building incredibly successful money-making enterprises and they're sharing their expertise here – an unprecedented opportunity for women to discover who they are and how they can create a sustainable business built from the inside out! Whether a woman is just starting out or is launching her fifth business incarnation, the tools, tips, and insights in Smart Women Live Their Why provide a positive boost of honesty, caring, wisdom, and support from her peers.
Keep a special eye on CHAPTER 39 'Build Awareness & Reduce Overwhelm in Your Biz' by yours truly!
To check it out or buy via Amazon.com, CLICK HERE
http://www.amazon.com/Smart-Women-Live-Their-Entrepreneurs/dp/193621458X/ref=sr_1_1?ie=UTF8&qid=1371750030&sr=8-1&keywords=smart+women+live+their+why