I Can Do It Ticket Prize Draw…
GRAND ANNOUNCEMENT…
Who is attending the I Can Do It conference as my PRIZE DRAW treat? That would be Jenny from Oregon!! Thanks to her lovely friend who won and gifted the ticket to Jenny, they'll be celebrating a fabulous gal-weekend together in Vancouver. Absolutely LOVE the joy-fest!
A huge THANK YOU to all of you for your amazing support of  my book…and most importantly for your readiness and willingness to step into your own self-discovery process. You are my JOY!
******
Rocking Contest to WIN a ticket to the 'I Can Do It' Conference!
The Hay House I Can Do It Conference is coming to Vancouver on May 5 & 6, 2012. It's the second time in 2-years for Vancouver to host this event. Last year the conference was a HUGE success, with seats sold out months in advance.
To inspire you to dive into this personal growth, self-care weekend of celebration, I am offering a special contest…one that may find your bum in a seat at I Can Do It!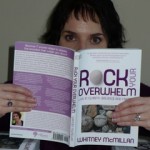 What's involved? To spark you into self-growth action, I am offering this special contest to any one who purchases my book from March 5 – April 5, 2012. Get your self-transformation ignited with my book Rock Your Overwhelm: Live in Clarity Balance & Freedom prior to the I Can Do It conference, as a warm up to more self-love discovery!
What's up for grabs? One fabulous PRIZE peeps! Yes, you could find yourself with 3000+ other fabulous self-discovery seekers enjoying a 2-day pass to the sparkling I Can Do It conference! [A $200 value.] Yes, it's time to really shift your overwhelm and where better than with some of the most inspiring self-help gurus of our era. Rock Your Overwhelm with my book and a dazzling 'can-do' community.
HOW TO ENTER:
Purchase my book between March 5 – April 5, 2012.  You can purchase Rock Your Overwhelm online at Amazon, Indigo or Chapters, or in local book stores.
ONLY NEW purchases qualify. If you've put off buying it, or you want to gift a copy to someone, now is the time! One contest entry per new book purchased – NO limit on number of enteries – the more the better your chances to win!
Email or Facebook Message me to confirm your purchase. Let me know you bought a NEW copy and your name will be entered in the draw. Email:

connect@whitneymcmillan.com

or Facebook Message (click

HERE

) 
Contest ends April 5, 2012 at midnight Pacific Time.
You will be contacted by email/FB message on April 6, 2012, if your name is drawn.
Contest open to anyone from anywhere. If you live near Vancouver, you're golden. If you're from farther afield and you've wanted to visit Vancouver and see

I Can Do It,  NOW is the time. If you win the ticket, you find your own way to Vancouver, but I treat you to the 2-day I Can Do It

conference pass. Deal?
To PURCHASE my book: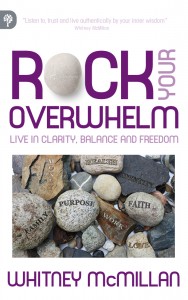 Order Rock Your Overwhelm via Amazon at: http://whitneymcmillan.com/rockyouroverwhelmbook/
Also available via Chapters and Indigo online and at their in-store kiosks. Available at fine local book stores, including Banyen Books & Sound and Utopia Gifts & Books.
To LEARN about the I Can Do It Conference: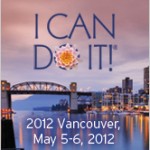 Tickets for I Can Do It are already sold out!
For more conference information: http://www.hayhouse.com/event_details.php?event_id=1572
To review:
Buy a copy of my book, Rock Your Overwhelm: Live in Clarity Balance and Freedom
Confirm your NEW purchase with me by email (

connect@whitneymcmillan.com

) or Facebook message (click

HERE

)
Say affirmations until April 6, 2012 to find out if you're on the way to

I Can Do It

as my treat!
Enjoy the likes of Louise Hay, Wayne Dyer, Marianne Williamson, Gregg Braden, Caroline Myss, Bruce Lipton, Doreen Virtue, Robert Holden, and Cheryl Richardson LIVE!
Got questions? Please email or Facebook message me.
Looking forward to connecting with you!