Gabby Bernstein Event
Here's a great treat for you…one of my favourite inspirers is coming to Vancouver! I am truly honoured to have her write the Foreword for my upcoming book: Gabrielle Bernstein.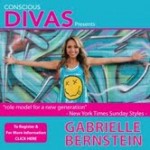 My good friends, Kate and Julia, at ConsciousDivas.com are hosting a fabulous event with motivational speaker and best selling author, Gabrielle Bernstein this coming September!  Gabrielle is launching her brand new book titled: Spirit Junkie: A Radical Road To Self Discovery. What a great moment to share the magic!
Gabrielle's personal story is amazing. Several years ago, she went through a miserable "Rock Bottom" time in her life, where she questioned if there was ever a way out for her.  It wasn't until an Intuitive Tug shook her awake, realizing that she was the only one who had the power to change her life around. By embracing and learning Self Love, she finally saw the beautiful Miracles that always hovered around her.
If you've ever felt or currently feel like your life could use a boost, you'll benefit amazingly from this live event!
Gabrielle Bernstein will be in Vancouver to promote her new book on September 26th, 2011
For more information on this Fabulously Empowering Event, please visit:
http://www.consciousdivas.com/gabrielle-bernstein
If you purchase early, your ticket price includes a copy of Gabrielle's new Book, Spirit Junkie. Got to love treats!
Look forward to seeing you there!!